07.03.2021
Gaston-F. Barras, President of the Golf Club Crans-sur-Sierre

Crans-Montana, March 7th 2021
DEATH OF MR GASTON-F. BARRAS
The Swiss golf world is in mourning. Gaston-F. Barras, nicknamed Mister Golf, died of a short illness on March 7th 2021 a few months before his 90th birthday.
He spent the last days in his apartment in Crans-Montana, surrounded by his two sons François and Christian and their families.
Besides his activities in real estate and his involvement in politics, his real passion was the game of golf.
A charismatic and passionate person, he has chaired the Organizing Committee of the Swiss Open since 1964, but his memories go back much further. « Golf has always been a part of my life. At the age of 8, I was already a tournament caddie and, as an adult, I played it a few times. I grew up with this tournament and watched it develop into what it is today : one of the most popular tournaments in the world,» he stated.
At the same time, he became deeply involved in the Golf-Club Crans-sur-Sierre by taking over the presidency in 1981, a club he presided over until his last days, and then that of the Swiss Golf Association (ASG), now Swiss Golf, from 1991 to 1996, a period during which golf developed significantly in Switzerland.
70 years of commitment to golf, and some fine achievements : the awarding of the "European Masters" tournament title in 1983 with direct reference to the Augusta Masters plus the signing of unique and notable contracts for the 2 courses in Crans-Montana that are named after their architects - the 18-hole with Seve Ballesteros (picture below) and the 9-hole with Jack Nicklaus.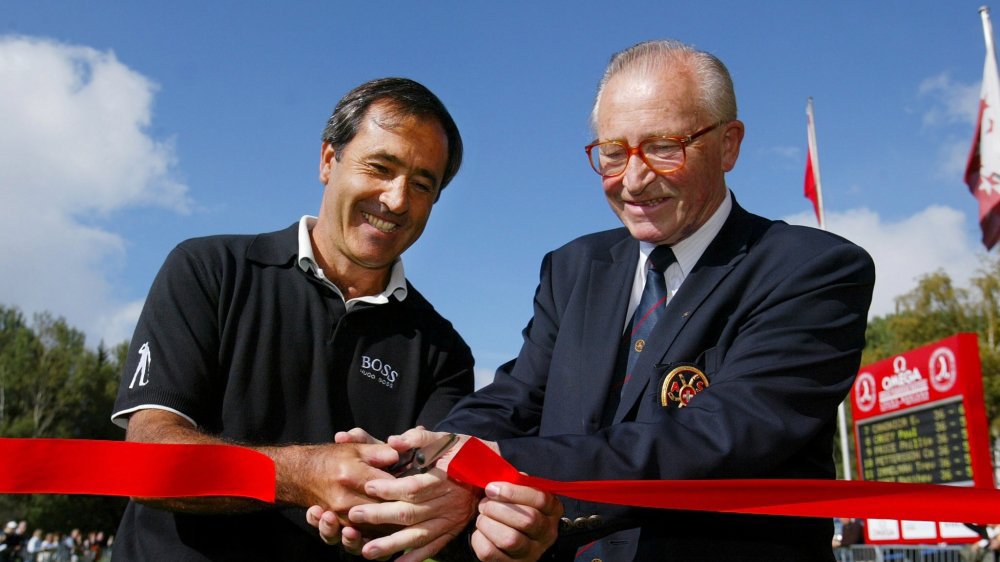 The Swiss media also paid tribute to him by awarding him the title of Sports Promoter of the Year 2000.
Finally, at the dawn of his 80th birthday in 2010, he received the highest award in European golf - the title of Honorary Lifetime Vice-President of the European Tour.
The Swiss golf world is losing an iconic figure. Gaston-F. Barras greatly contributed to the development of this sport through his vision, personality and commitment.
The Committee, the staff of the Crans-sur-Sierre Golf Club and the Omega European Masters are deeply affected by the announcement of his passing away and extend their deepest condolences to his family and friends.
Further information : direction@golfcrans.ch